Here Are Some of Our Favorite Infused Water Recipes You Can Try at Home
Now that we've gone over all the basics, it's time to get creative. Here are a few of our favorite infused water combinations. Everyone has their own preferences so we're going to concentrate more on the combinations than the ratios. Feel free to experiment and make them your own or just go wild and make them up as you go. 
Grapefruit and Rosemary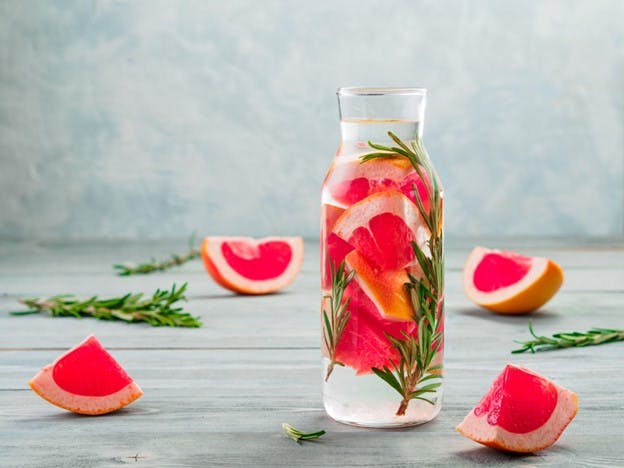 Citrus and herbs is a classic combination in cooking and adult beverages. It shouldn't be any surprise that a few of them make our top list of tasty mocktails. Grapefruit and rosemary is not only appealing to the eye but it lights up your senses to drink it.  
Use one pink or ruby red grapefruit slice for each sprig of fresh rosemary and let soak for no more than 4 hours. We recommend cutting off the peel since grapefruit can already be a little bitter. If you want a little sweetness, add melon into the mix.   
Pro tip: If you have a little extra grapefruit and rosemary, set it on the stove to boil in a pot of water. Your whole house will smell amazing.
Orange and Basil
Sticking with our citrus and herbs theme, orange and basil is another incredible combination you'll want to try. If you're a fan of basil, try muddling just a little bit to release the flavor before you start. It does get quite strong, so be careful if you go past a few hours.  
It's less important to slice off the orange peel here than the grapefruit peel but if you're going to soak it for more than a few hours, peel the orange first. 
Mint, Lemon, and Cucumber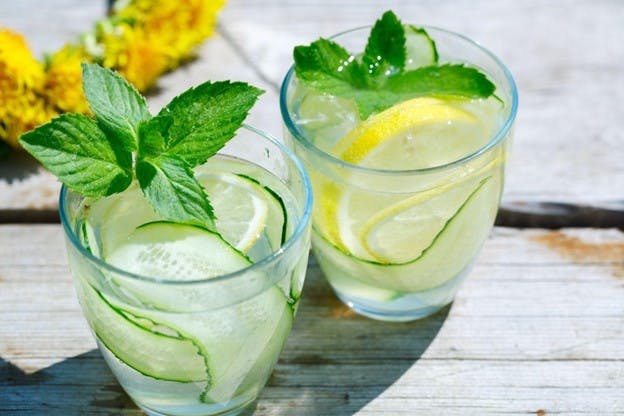 Nothing beats some cool fresh mint water in the middle of summer, except maybe adding some lemon and cucumbers to it. This combination is a powerhouse of freshness and nutrients. If you want to add a little sweetness, watermelon caps off this combo nicely.  
A great thing about this recipe is that all the flavors in it act quickly. You could be indulging in this summer delight in just minutes but we recommend you give it an hour for the flavors to really set in. 
Pomegranate, Kiwi, and Mango
If you like a little sweetness, this tropical, nutrient-filled gem is for you. Grab a single-serving-sized mason jar, drop in a handful of smashed pomegranate seeds, slice off a few thin strips of mango, add three or four coins of kiwi, and fill the rest with pure, filtered water. Let it sit in the refrigerator for a few hours, and drink when it tastes just right to you. 
Ginger Water
Fresh ginger has been a folk remedy for upset stomachs for hundreds of years, so it's no stranger to being a water mix-in. There are many combinations you can use ginger with, like lemon and cucumber or rosemary and honey.  
Because the ginger root is so tough and fibrous, boil some water and toss peeled ginger pieces in. Take it off the heat and let it steep for anywhere from 5-30 minutes. When you like the taste, strain the ginger out and chill your water in the fridge.  
Ginger water can act as a whole new canvas to try new flavors with. Or, you can use ginger water ice cubes (just freeze ginger water in an ice tray) to accompany your other infused water recipes.